iTunes 8 + iPod Touch + iTunes Remote
So yesterday after all the hype I went and upgraded my iTunes to 8 and the firmware on my iPod touch to 2.1. Enabled Genius, played some music, all things seemed fine, AirTunes still worked fine unlike some people.
Everything was great until I attempted to play a track or two from a playlist from the remote app on the touch...When the remote app said "An unknown error occurred. Please check your library and try again" Ok weird, so I check the desktop see if iTunes has thrown an error, nope. Played the song from the desktop it played fine, I thought nothing more of it until today when I bumped into the problem again. Again it plays fine from the desktop. So from the remote app on the touch I try playing something from another playlist and it works fine, back to the 1st play list, no go, by artist works, by album works it all works just not this play list or any newly created playlists. WTF?
After google and the apple support/discussion pages didn't help. I went into super geek mode and head right for the packet capture maybe to see a reasonable error on the wire that the touch just doesn't know what to do with. I see that its using the DAAP which I thought was interesting but it does make sense. But it was throwing a 500 internal server error, but only for those tracks in the unplayable via remote playlists. Nothing useful other than iTunes seems to freak out when a track is requested from the playlists...
I decided to check the preferences. I get to the sharing tab and see that I'm only sharing a few playlists, however everything else plays just fine from the remote. So I change it back to Share entire library and problem solved. Woo.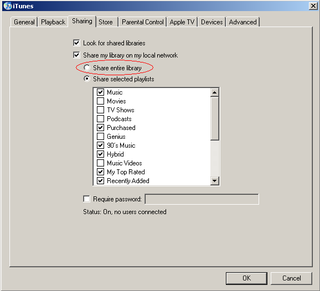 Posted by Ben at
05:27 PM